...TIN HUEY NEWS archives...
More fun and silliness from the T-Huey Mambo Factory.
---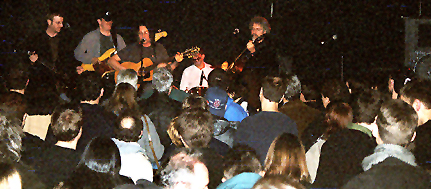 ON THE RIGHT COAST:
and the curse (blessing?) continues...
"Half Cleveland" at
Maxwell's Friday, January 9th
The Sidewalk Café Saturday, January 10th
If you recall (or read down this page), "Half Cleveland," Harvey Gold and Chris Butler's semi-plugged little mobile unit, was booked to open for Robyn Hitchock (Soft Boys, RH and the Egyptians) at Maxwell's in Hoboken on 12/3/03.

The December show, as you may recall, was hammered by 10+ inches of snow in NYC's legendary Nor'eastern of '03.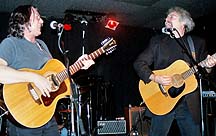 It was then rescheduled for the above date, in the hope that the world might be a milder one when it came around. As it turns out, it was a much colder weekend, but a dry one, so we all proceeded happily. Huey drummer Stuart Austin was to fly in Friday for the weekend shows, but while Mr. Fate this time largely left the weather alone, he by no means was done with us. On the way to the airport in Ohio, Stu rear-ended a fellow who had stopped suddenly for a car that was PARKED/abandoned in an active highway lane!!! No one was hurt, but enough damage and mayhem occurred that Stu couldn't make a flight out in time.
James was already rehearsed and scheduled to join us, and the young and beautiful Mo graciously crash-coursed and joined us onstage for the sets in their entirety, joined also for a few tunes by guitarist Jim Higgins. Robyn was gracious, the audience was wonderful, attentive and welcoming at a club in which we always have enjoyed appearing. But we missed Stu...
The next night, it was Chris, Harvey and James doing the "Half Cleveland" anti-folk set at the Sidewalk where we were also well received and happily saw many old pals and cronies and made a few new friends while there.
Next NY gig we'll plan on a Tsunami.
STYLIN' ON THE NORTH SHORE:
Ralph Carney and Friends featuring "Carneyball Johnson" at the The Lime Spider, Akron, OH
It all started with Ralph Carney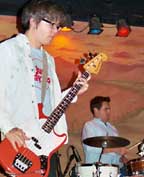 sending up Kimo Ball and Scott Johnson to warm things up. They set the joint on fire. A biting enveloped bass from Kimo and Scott's drums set up a pounding killer riff that went on almost to the point of turning this humble reporter into a frothing whirling dervish. And c'mon folks, they did a version of the Ohio Players' "Love Roller Coaster" with Ralph doin' his vocal thang through a distorted baby megaphone! These guys played and played dynamic and great stuff.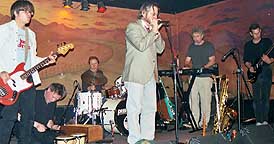 The second set had Tin Huey drummer Stu Austin joining in on the first 3 or so tunes, fellow Hueys Harvey Gold and Michael Aylward on electric guitars with Harvey doing about half of the set on digital keys, and Bob Ethington in on percussion. With Kimo on bass, Scott on many of the tunes, and Harvey, Ralph and Michael playing very different things than they did on the songs as Hueys, making it a real experiment in terror with a very different sound. We were told it was pretty damned good; we KNOW it was pretty damned fun.
This past summer CBJ did a two-week tour opening for Les Claypool's Frog Brigade, playing a great mix of Ralph Carney original tunes and their own unique garf. Fans may have also caught CarneyBall Johnson's tour stop in Columbus, Ohio when Hueys Harvey Gold and Bob Ethington joined them onstage as did Chris Butler when they visited the "Stone Pony" in Asbury Park.
---
"Half Cleveland" Weathers the Nor'eastern of '03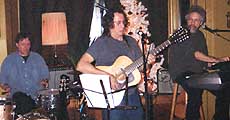 Starring from Tin Huey:
Chris Butler as 1/4 of "Half Cleveland" and
Harvey Gold as the 1/4 NOT from Cleveland of "Half Cleveland" with Bob Ethington as that loveable character: "The rest of the band."
The Plot:
As both a laboratory and a mobilized guerilla sub-unit of what Harvey lovingly calls the "T-Huey Mug-A-Sheep Connection," an apparently obscure reference to the George Clinton Parliament/Funkadelic/P-Funk Industrial Kick Ass Village... er... Moth-er-ship, (get in NOW?) "Half Cleveland" booked a couple of East Coast gigs on 12/5 and 12/6.
Friday's gig at The Goldhawk in Hoboken, NJ actually managed to happen.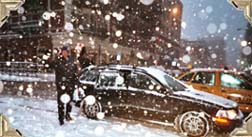 It was a dark and stormy night... how dark and stormy? Well, aside from 16-18"' of snow falling in NY in a 24 hour period, let's let one of the performers in our songwriter round robin that night (along with the wonderful Bianca Bob Miller), Mister Otis Ball describe it to you:
"A couple weeks ago, my old friend and occasional bandmate, Chris Butler, invited me to play at a show he was putting together. I thought this might be a good way to promote the karaoke band, so I said I'd do it. Roped Sammy into coming with me...
What we didn't know was that a blizzard would be hitting the area that afternoon...Sammy managed to make it in from Manhattan, we went over a few songs, loaded up The BallMobile and raced to The Goldhawk at the mind numbing speed of 15 mph...
...Sammy and I opened the show...Next up was Bianca with her stories of Catholic upbringing and hatred of underwear. The Ohio boys followed with a mini set that was just wonderful! We all went around one more time and Chris and the Huey's ended the night. The finest moment of the evening for me was their last song. Chris brought up bass player extraordinaire, James MacMillan, to join in on a stellar version of one of Chris' big hits, Christmas Wrapping!...I have rarely heard such a joyous ruckus from four musicians...
---
Thank you, Otis. It was great fun hearing your original/karaoke/flat out crazy and committed tunes and performances.

It was great fun for all, it seems, and wonderful to have met, listened to and played around with Otis, Sam and Bianca. Huge thanks to all the brave who ventured forth to attend.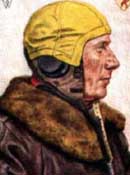 The next day, well...
Fearless Michael of the Air
16"-18" is 16"-18", so Michael Aylward's flight in to join us at Maxwell's was cancelled as was the gig itself at Maxwell's but, as we said above, we'll give it another go in '04.
---
Thursday, October 9, 2003
The big LIVE, baby beatnik-like SHOW starring some TIN HUEY fellas at Highland Square Records, 824 West Market Street, next to the Highland Theatre. 330-375-9244.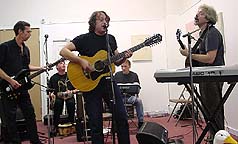 Harvey, Chris, Michael, Stu and Bob as...
...it started as Chris and Harvey's duo, Half Cleveland, but with those other guyz it became, as 5/7 of Tin Huey... what then? Plenty of ideas such as Huey Lite, Huey Junior, Harvey and the Limelighters, Baby Huey, even Hueyminum.... the award, however goes to Malcolm X. Abrams of the Akron Beacon Journal, with his offering of:

Moist Hueylette

The gig took place at Square Records for a few reasons: To play, to play as "Half Cleveland," to play Huey stuff differently, to play, and to expose a few extra folks to this unique little record and book store in the Highland Square district of Akron... by playing, so...

The Line Up:
Harvey Gold - Casio keyboard, Acoustic 6 string, and vocals
Chris Butler - Acoustic 12 string, and vocals
Michael Aylward - Electric Guitars, and vocals
Stuart Austin - Yamaha Electronic Drum Kit
Bob Ethington - Percussion
* Mark Price and Ralph Carney - There in spirit and missed by all.


It was great, great fun. Thanks to our friends at Square Records. And, local folks, never forget that between them and Time Traveler on State Road, you NEVER have to buy CDs (or vinyl) at a chain store. Fight the Power... uh... dude.

And a moment of silence for Pete "Mad Daddy" Myers, whose posthumous induction into the Ohio Radio and Television Broadcaster's Hall of Fame was the reason we were all around at the same time, enabling us to do this giglette, in the first place.
---
...Other Old NEWS...
FRIDAY, AUGUST 8th at the LIME SPIDER, Akron, Ohio
"Cocktails With the Hueys"
Tin Huey played two sets and recorded the show on 24-track audio for the purpose of including some of it on the NEXT TIN HUEY CD!!! http://www.thelimespider.com/calendar.htm

SATURDAY, AUGUST 9th at The ROCK and ROLL HALL of FAME, Cleveland, Ohio
The Hueys headlined a show at The Rock Hall with The Pagans and The Pink Holes. Cobra Verde's John Petkovic joined us onstage for The Stooges' "I Wanna be Your Dog" and "T.V. Eye."

SUNDAY, AUGUST 10th at The BEACHLAND BALLROOM, Cleveland, Ohio
After the "Cocktails..." and Rock Hall shows, Chris and Harvey, in what turned out to be the first appearance of their duo, "Half Cleveland" did a set at a legal defense fund benefit for KSU demonstrators facing prosecution for highly-questionable arrests on May 4th, 2003. http://www.beachlandballroom.com/shows.html
---
Thanks for tuning in and for your support. And remember to tip your Waitress!!

Cheers!
---


Last update: September 30, 2004