...TIN HUEY NEWS...
Coming Soon to a Netflix Near You!!

This Film is Not Yet Rated
The new, soon-to-be-released documentary by Kirby Dick, about the mysterious and creepy film ratings board (go to imbd.com for more info) includes the Tin Huey recording of Chris's song "Hump Day" from Contents Dislodged During Shipment!!! "This Film Is Not Yet Rated" premiered at the 2006 Sundance Film Festival and will air on IFC in Fall 2006.
---
---
...and...
Chris Butler's "I Know What Boys Like" was on The Simpsons, Sunday April 30th Mazel Tov, cb. Let's eat!!!
---
---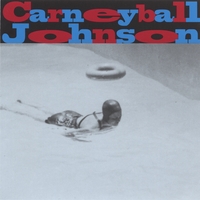 New CD: Ralph Roils with Remarkable Record!
Our boy Ralph, along with the udder boys, just received a Village Voice Honorable Mention for his/their new CD, (this'll be tough to remember) Carneyball Johnson.
"Mr. Ralph Carney, and a small ensemble, do the works of Zappa, Prado and Dekker..."
Nuff said. Get the damned, crazy, glass shattering, mellow, cool, warm, lovemaking machine thing through (this'll also be a rough one to retain) www.carneyballjohnson.com

For more West Coast Ralph reports go to akroncracker.com.
---
---
Mindful Meanderings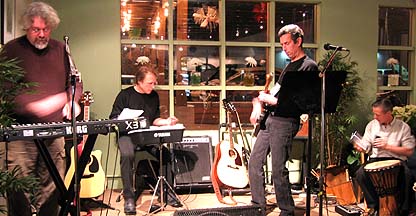 Saturday, January 14, 2006 at the Enjoy Café, Akron. Huey Michael Aylward's wife Susan recently co-opened this coffee, tea, & eats jernt in West Akron. Now places like this, when it comes to music, are more Lilith Fair by nature, but ... look who's involved, so ... the original Tin Huey (Harvey, Michael, and Stu), a band that, "in the day" played relentless hashish-induced Canterbury-style jams that were often much more fun to play than to listen to, decided to thrust something like this on an audience lured in by seriously awesome biscotti and a tea selection bigger than Butler's Vox collection.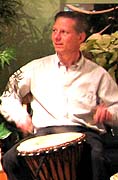 Michael mindfully meandered, producing, as always, sounds only Michael makes, Harvey made his first public appearance focusing on his Harbeetronics looping, Stuart joined in on drumatronica and Chi-Pig and The Paper Crowns' Rich Roberts sat in on percussion. Chi-Pig/Half Clevelandette, Debbie Smith sat in for one tune, tunes themselves actually being punctuation (or was it relief?) to an hour or so of jamming. Chi-Pig's Sue Schmidt Horning weighed in with loud-talking-during-quiet-parts to give things a warm and familiar feel.
---
---
The Half Cleveland "Drummers are Bummers" Dream Weekend Out East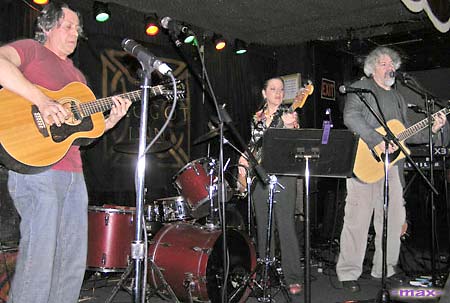 Pretty simple: Stuart couldn't do it, Bongo couldn't do it, and nobody else much likes us a whole lot, so Half Cleveland morphs into a trio (most of the time), on this lovely holiday season weekend:

Thursday Dec 8th 2005 at Willie McBride's in Hoboken. Chris, Harvey and Debbie join a trillion other musicians in good and expansive spirits (the Bass Ales and Irish Whiskey on empty stomachs helped a lot) all playing li'l 15-minute sets, to help out a town in Louisiana that the city of Hoboken kidnapped. Playing "Physics," "Larry's in the Cut Out Bin" and finishing up will old drummer pal, Mo, and a bevy of onstage beauties, only missing the white go-go boots and guilded cages (sorry, low ceiling), the inevitable rave up of ... you guessed it ... Chris's "Christmas Wrapping."

Friday Dec 9th 2005 at The Goldhawk in Hoboken. Very cool playing our favorite living room NOT in a snow storm. Played about 90 minutes, with our dear Bianca Bob Miller spelling us in the middle of it for a couple clever ditties. No drum kit, but joining in on tambourine and vocals on 'shake Some Action," "Idiot Trail," and ... yup ... that timeless "Christmas Wrapping" again, Dr. Paul Moschella. Girls on stage again, too. Always a desirable thing.

Saturday Dec 10th 2005 at The Baggot Inn, in the Village. Something of a combined re-coming out in NYC party for Debbie (like a cotillion, y'know), a gathering of Harvey's old NY pals and the insidious intermingling with yet more musicians and fans in from Hoboken, a town proving to have an ubiquitous populous to the point that we now, in whispers, refer to it as the "Akron of the east," much as we refer to Portugal as the Korea of the West. Very nice turnout for a 45-minute set, this time joined by drummer Doug Wygal on a couple of tunes, including ... oh, y'know, it's December! gotta play it!!! Just one girl onstage for this one, but she played great bass and was wearing a Roberto Cavalli, so hey ... HAPPY HOLIDAYS FROM HALF CLEVELAND!!!

* SPECIAL THANKS to our friends Max and Bill for the wonderful video and pictures from the Baggot Inn show (a great surprise since our digital camera took a dump this time around)! More of Max's pictures from the show can be found at http://members.aol.com/aka333/HalfCleveland_12-10-2005/
---
---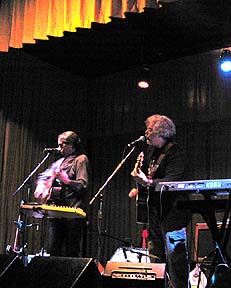 Half Cleveland at the Beachland Ballroom w/ David Lindley, Cleveland OH.
Tuesday, November 8th, 2005 Half Cleveland at The Beachland Ballroom, Cleveland, Ohio
Opening for David Lindley, the first appearance of Chris and Harvey as a full-blown semi-plugged duo.

---
---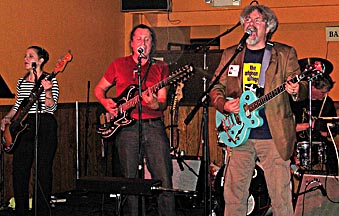 Half Cleveland at the Beachland Tavern w/ Chi-Pig, Cleveland OH.
Saturday, August 27, 2005
Seemingly a reprise of their July show at The Lime Spider, this was a very different gig for Half Cleveland. Celebrating the second anniversary (this month) of the day a burned out Chris and Harvey played a 20-minute Sunday afternoon set at the very same Beachland Tavern with a couple geetars and Stuart Austin's toy Casio keyboard, Half Cleveland was a more fully-formed band than ever.
Once again the core was Harvey, Chris, Bongo Bob, and Debbie,
but this time out, a couple notable differences. First and foremost, Debbie played bass on everything that didn't involve their special guest, Tin Huey bassist Mark Price. When not playing bass, Mark played percussion and helped out on vocals, with one exception...later.
Absent for the first time at a local show was Huey Michael Aylward, who has opted for a short (we hope) sabbatical that he's referring to as a retirement, in order to concentrate on finishing his home recording studio so he can put to tape or hard drive what some of the voices in his head have been saying to him. He still had a presence, however, in some guitar effects he loaned Chi-Pig's Sue Schmidt, and by loaning us all his daughter Kate, who took pics of Chi-Pig and ran the swag table. Danke, baby. Still, he was missed...especially on "Cheap Mechanics."
As this was for a different audience, comfort--probably more than an homage to Iggy, who seemingly opened every show over a period of a decade or so (maybe he still does) with "Raw Power"--had Half Cleveland opening once again with Chris's "Hey Stranger," then bringing up Dolli Q. Gold to help on vocals for "Millions and Millions."
The set that followed: 'silly Idea" (hg), "Cheap Mechanics" (hg/Ralph Legnini-Tin Huey disinformation), "Workingman's Beer" (cb The Museum of Me), "Larry's in the Cut Out Bin" (hg) with Mark Price on bass, 'seeing" (Mark Price-Tin Huey disinformation)
, "Red Drinks! Red Drinks!" written by Chris and recorded on his Easy Life CD. Last time out, you may recall, we were graced by a great bassoon accompaniment from Nona Ethington. This time, we had the honor of a Mark Price theramin solo.
Experiments in dementia continue. "French Movie" (cb-I Feel a Bit Normal Today), "New Enemy" (cb), "Lazy Boy" (hg), "Physics" (cb), "Idiot Trail" (cb-The Museum of Me), "Girls Just Wanna Have Fun" (Cyndi Lauper)--the Rick-Wakemen-meets-Jimmy-Smith Chris Butler goes-on-a-preachin'-rant-breakdown lasted exactly 2 weeks on this one. Yessss!!! More to come...we're working on a little Flamin' Groovies thing-a-ma-jig.
---
---
Half Cleveland at The Lime Spider w/ Chi-Pig and The Difficult--Akron OH.
Saturday, July 9, 2005
In their first "headlining" role, Half Cleveland ended up, in a night that started late and ran late, "batting clean-up." After terrific and energetic sets by The Difficult and Chi-Pig, bassist Debbie Smith ran and changed clothes to return and take on the part of her evening as a Half or a quarter of a Half Cleveland, which would make her an Eighth?
Regardless, in a more ambitious set, HC once again started off with the line up of Harvey, Chris, Bongo Bob and Debbie, opening with Chris's "Hey Stranger," bringing up Miss Dolli Gold once again, to help on vocals for "Millions and Millions."
Having become more integrated into the band's tunes, Debbie stayed on stage, and Huey Michael Aylward again came on board as HC launched into Harvey's pop/rock 'silly Idea,"
going immediately into the Harvey/Ralph E. Boy Huey's tune from disinformation, "Cheap Mechanics," flaunting a, yet once again, tasty screamer of a solo from Michael. Kudos, beatch. Chris then took over bass as Debbie finally got a breather, and the quartet went into Harvey's ode to failed rock 'n roller dementia, "Larry's in the Cut Out Bin" and a tribute to one of the great R&R demented, John Cale, with "Close Watch." Harvey then grabbed the bass from Chris as the boyz did a rave up of Chris's "Workingman's Beer." THEN came what Harvey described as the embodiment of Half Cleveland's role in performing "experiments in terror" (if only our own).
Bringing up to the stage, Miss Nona Ethington, otherwise to be identified as Bongo's beautiful baby girl, this singular quintet rolled out Chris's smoky little ditty from his Easy Life CD, "Red Drinks." Miss Nona playing an alluring bassoon on said torcher. Nona, it was such fun to do, and sounded so cool. Thanks much. After Michael came back up, Harvey's "Lazy Boy" blew out everyone's ear drums, Chris's "Idiot Trail" made everyone kind of want to see how they'd look in a Stetson.
And then...The Half Cleveland Big Band took over for the last couple tunes of the night. Joined by Chi-Pig's Sue Schmidt Horning on guitar and lead vocals, Dolli and Miss Cindi Smith Rudick on harmonies, and Herr Doktor Jim Rudick on cello, a pretty massive attack on Richard Thompson's "The Angels Took My Racehorse Away" took place. I mean...three guitars, accordion, cello, bass, drums, and a million singers, folks!!! It was like seeing Stan Kenton...but not!!
Having had so much fun with this one, almost everyone stayed on stage as Chris led the Lime Spider Sardine Arkestra in "Girls Just Wanna Have Fun" featuring a faux, white folks, Solomon Burke, B-3/bass breakdown as Chris (sans bowler) gave his testimony on what bees iz in DA BOYZ'S bonnets from time-to-time. Michael, as a regional director of the Cindi Lauper Not-Really-a-Fan Club, gave way his 40 mules and an acre of stage space to The Difficult's David Giffels (who had jumped up for a little joined vocal matter on "Cheap Mechanics" earlier in the set), cuddling up to share Harvey's mic as they somehow morphed a couple of whistling brains into the "colored girls" singing some sort of background vocal to the Stones' 'shattered" as the Right Reverend Butler spoke the gospel. After that, we went to mamas for our traditional after-church Sunday dinner of fried chicken and kreplach.
---
---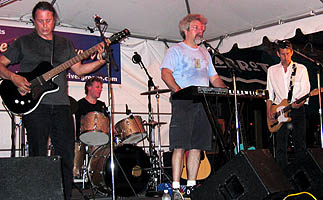 Half Cleveland at The Crooked River Groove Festival--Wilberts, Cleveland OH.
Saturday, June 11, 2005 A "Celebration" of the CMJ Festival
Coming off a really well-received set at the Nicked Up Hueys benefit in April, Half Cleveland mounted it's most ambitious set and line-up thus far in Ohio. Harvey Gold and Chris Butler were once again joined by fellow Hueys Michael Aylward and Bob Ethington.

This time, however, newest Half, Chi-Pig's Debbie Smith
guested on bass for a few tunes. Opening with Debbie on stage, Half Cleveland kicked off what the festival was strictly adhering to as a 45-minute set with "Hey Stranger," followed by "Millions and Millions," this one with Dolli Gold on back-up vocals, both songs from Chris's Easy Life CD. Debbie and Dolli exited the stage leaving Half Cleveland bereft of anything even vaguely pleasant-looking.
Keenly aware of this shift in the wind, the boys resolutely dug their toes into the dirt and launched into a Harvey Gold-penned demented rock block, starting with his necrophiliac homage to Brian Ferry, the Hueys tune, "Cuyahoga Creeping Bent," and a slightly more manic turn with "Larry's in the Cut Out Bin." Then they took the pause that refreshes with the exquisitely timeless John Cale tune, "Close Watch." Coming down the stretch, all eyes on the 45-minute set clock, Harvey moved to bass and the boyz's launched into a raucous rendition of Chris's (from his Museum of Me CD), "Workingman's Beer" followed by Harvey's new three-chord epic, "Lazy Boy" and finishing up, Debbie back on stage, with Chris's pop/Western classic, "The Idiot Trail."
Time: 50 minutes. A relative victory. Thanks to one and all for having us and hearing us.
---
---
The reason for all this: Tin Huey's bassist Mark Price is battling, quite successfully, it appears, colon cancer that spread to his liver. And our guitarist Michael Aylward took a solid hit having open heart surgery to repair a valve back in December.
The Report:
By Harvey Gold

I felt like I had one of those Hilary Swank/Chad Lowe moments when I was onstage with the Hueys Saturday night. I recall professing love for Mike and Markal, thanking fans and friends for rising to the occasion and all the bands that stepped up to the plate (which I'll get to in a second), but of course didn't thank the insignificant skin tapper sitting directly behind me, obscured from the audience's view by either my big ass or my big head, depending upon the bend of my waist. That would be, of course, "Bongo" Bob Ethington. Now admittedly, not that much thanks is necessary. Truth be told, ascending to the title of "AKRON'S OWN BILL GRAHAM FOR A WEEKEND" surely brings its own rewards to our little pop-cult diva. Others are now calling him 'Sir' Bob. Geldorf's pissed, I hear.

And, of course, if I were to roam into Mark Price's Lavender Electric Sutra Loveworld, I'd have to admit that in the domain of universal goodness, Bob's name is up in lights this year, and most deservedly so. People all deal with these unsettling happenings in different ways and Bob, you saw your way to act with a very wide brush stroke, and it worked so very, very well. For that, congratulations, Mister Ethington.

One other person who didn't get shouted-out-about (that HAS to be three words of a classic rock song, yes?) enough was Danny Basone, proprietor deluxe of the venue, The Lime Spider. Yeah, yeah, he had the pleasure of playing with his old band (The Difficult), and seeing his creaky assed brother (HIS role at the club apparently to walk in with an easy gait, an easier smile, and glad hand the rabble like the anti-Al Swearengen of 'Deadwood') playing with HIS old killer band (The Walking Clampetts), but truth be told, this was a LOT of work for The Lime Spider, a place that so quickly and easily became a home to us all, thus the only place to do this--and a whole lot of that has to do with the fact that it's Danny the Knee Cracker that we have to deal with when walking through the doors (as long as, of course, you walk through the doors after 2:00 or 3:00 PM when he's finally dragged his ass out of bed). Thanks, Danny. Much love. Thanks brother Bob. And a special thanks to Colette, young Daniel's betrothed. This woman, with the face of an angel, early Friday evening, stood between this cranky old man-who's-led-around-by-his bladder and the urinal that was (I could hear it from around the corner) screaming my name, in order to inform not just me, but us all, that NEITHER bathroom worked. Talk about willingness to take a bullet. Colette, you are SOOOOO initiated!! Danny, you are SOOOOO lucky!!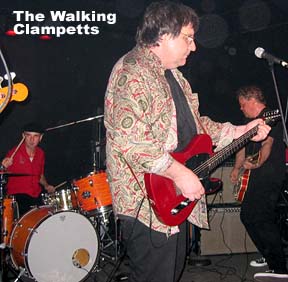 On a musical level...wow! So many cool bands. Michael, Stu, Chris, Ralph and I all left Akron at the end of '79, so there was much to be heard here that at least I hadn't heard before. I so wanted to hear The Walking Clampetts, a band that NEVER walks, driving like a Rockabilly 18-wheeler on a moonshine run, and it was well worth the wait.
.
.
I'd never heard that Rock & Roll mega-hunk Giffels and The Difficult, who played great smart, driving songs.
.
.
I'd heard but never seen CD Ruth...er...Truth, who kicked serious ass!! The drummer's kind of Keith Moon derivative, but, well...y'know, when it comes down to it, if they can, aren't they all???
.
.
It had been years since Unit 5 played with us, and THAT was so much fun. Tracey, you did great. Those bums (especially the drummer--didn't he used to have a perm???) are lucky to have you.
.
.
I got tears in my eyes when Chi-Pig hit the stage, and will always be grateful this gig called them out. Sue, I changed my mind. You can use my keyboard. And nice shoes. Great tiara on the wrist brace, Deb. Pretty sleeves, Rich. Excellent set.
.
.
I once again enjoyed those young whining whippersnappers in the form of the "unplugged" Houseguest, our own Akronesque Beau Brummels with Ted playing the role of Mister Peepers as the enigmatic Sal Valentino.
.
.
The Bizarros were awesome, I've never heard them in better form. Nick, this whole weekend was like a physical embodiment of the spirit you've always shown for the music from this small and humble village of ours. Bless you. Nice haircut, Terry.
.
.
As far as anything coming under the loose umbrella of the T-Huey Mug-A Sheep Connection, well, I've always felt that if you were a member of Tin Huey, a large dollop of humility was mandatory, so I'll just thank the guys that made up this issue of Half Cleveland, Michael, Stu, Bongo, and of course my cohort in pain, cb. I LOVED playing that set, especially the part when SOMEONE unplugged my amp...and sincerely, the work you guys did to become my Crazy Horse on "Lazy Boy" will always be appreciated.
.
.
Ralph, to give me the opportunity to play "Willie the Pimp" AND "We Ain't Got Nothin' Yet" in the same set for Ralph Carney & Friends is just flat out messed up, dude!!!
.
.
For those of you who didn't get there for the beginning of the show Saturday, my favorite idiot, The Kristoffer Carter Show, with my new bestest, tallest friend in the world, Glenn Girard, put out, for only two fellers from the Windy City, an awesome amount of smarts and music. Thanks guys.
.
.
I was away for 20 years, and finally heard The Numbers Band in earnest for the first time when they did their 30th anniversary gig at Tangier's and was blown away. They are such a compelling, dark force...I'm thrilled that our old roommates at JB's wanted to gig with us, and that hopefully, a bunch of folks who had never heard them before, did so. They were scary good.
.
.
And finally, holy shit, do The Black Keys kick it or what? I've known these guys a long time now, and even produced their last music video, but as a live band well...I had sort of imagined how powerful and committed these guys would have to be live to illicit the kinds of reactions I'd been hearing and reading about, and truly, they did not disappoint. They're putting out powerful, powerful stuff there. Changing more than a few poor schmucks' lives, no doubt.

And as far as Tin Huey, itself, I'll just proclaim unimaginable gratitude in having had Mark and Michael onstage and upright, messing up all those crazy-assed tunes we do with all the enthusiasm and energy (such as it was) as the rest of us! More gigs this summer, ya sissies!!!

Bob felt that a historic weekend was in the making. I was dubious. Such things can often be chaotic and disappointing, and then there's that humility thing. But this is Akron, and this was all of us doing something for a reason, so we did it with great, great joy, and did the work to make it a really historic weekend. One helluva lot of great music and, as Michael Baker observed, exactly how many great drummers should one reasonably expect to hear over a two-night period? It was really astonishing. For the rest of my impressions, well...the stage and sound guys were really awesome. Festival-style shit is hard enough, but to make everyone sound THAT good was a little weird, y'know?
Zombo Doug, thanks for printing up all the swag and running the table for this... some of this will turn up on this website soon, we think. Thanks to everyone who donated stuff to sell so Mike and Mark can afford more Swenson's Galley Boys and bon-bons, Michael can scavenge more buck-nine-eighty effects pedals that buzz and Mark can buy another 148-digital channels of ProTools and a skid of Golden Dove Shakra Unguent.
Derf, had you not, in the form of the official poster, created the face for this gig that you did, we'd all be in diabetic comas by now...or at least chanting some undoubtedly truly meaningful shit with Mark in his mom's basement right now. As it is, may Satan himself welcome you at the door, my friend.
Allen Bukoff, the creator of The Huey Sisters is insane and made the coolest buttons, "first aid" packets, and posters that plastered the walls of the Lime Spider (more stuff to be had on the site in the near future). Everyone loves a nurse, no?
If I left anyone out, it's because you simply didn't merit it, or I ran out of air, or you pissed me off, or...oh, and Huey, thanks for the name.
Bob, again, many thanks for having such a truly big heart, and Michael and Mark, to you for blessing our otherwise pathetic and spiritually undernourished (yours truly excepted, of course) lives.
For more great pics, go to:
http://www.mccc.edu/~crabtrem/akron/photo%20main%20page.htm
http://www.thisislandakron.com/hueysweekend.html
http://ohms.nu/gallery/thumbnails.php?album=3
http://ohms.nu/gallery/thumbnails.php?album=4
Chris Butler and Harvey Gold, with Michael Aylward, Stuart Austin, Bongo Bob Ethington
"Hey Stranger" from Chris's Easy Life
"Workingman's Beer" from Chris's Museum of Me
"Keep a Close Watch" by John Cale, recorded by Harvey 173 years ago on his Clone Records vinyl 45RPM release, Experiments
"Lazy Boy" a new, as of yet unrecorded, song by Harvey
Ralph Carney with Michael Aylward, Stuart Austin, Bongo Bob Ethington, Harvey Gold, Chris Butler
"Heckraiser" from This is! Ralph Carney
"I Like You (A Lot)" from Ralph's I Like You (A Lot)
"Willie the Pimp" by Frank Zappa w/ guest horns from Jack Kidney and Terry Hynde of The Numbers Band
"We Ain't Got Nothin' Yet" by The Blue Magoos
"Coronation" from Contents Dislodged During Shipment
"Dr. Modesto" from Contents Dislodged During Shipment
"Soldier of Fortune"* from New Stuff: Obscurity Deluxe
"Puppet Wipes" from Contents Dislodged During Shipment
"Cheap Mechanics" from disinformation
"I Lie the Truth", from C. Butler's I Feel a Bit Normal Today
"Man Don't Come," from R. Carney's This is… Ralph Carney
"Gimme Danger," from The Stooges' Raw Power
"Seeing" from disinformation
"Larry's in the Cut Out Bin"* from New Stuff: Obscurity Deluxe
"Rats"* from New Stuff: Obscurity Deluxe
"Robert Takes the Road to Liebernawash/Little Red Riding Hood Hits the Road" from disinformation
*Yet to be released

photos: Dolli Gold
---
---
Thanks for tuning in and for your support. And, as always, remember to tip your Waitress!!

Cheers!
---











Last update: September 7, 2005